International Student Exchange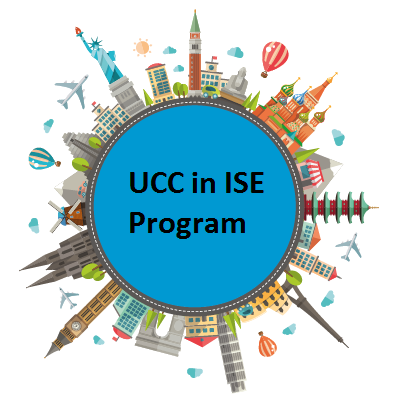 International Student Exchange (ISE)
The International Student Exchange are partnerships between FIU and various universities around the world. Depending on your degree requirements a student can either participate in the UCC in ISE Program or the ISE Program.

Students are required to be full-time in either program and will pay tuition directly to FIU, being able to use all financial-aid given to the student.
Important Deadlines:
All application materials must be submitted by the following dates:
Fall or Academic Year – March 2nd
Spring – September 16th
Attend an ISE Prep Info Session
It's never too early to start planning! At these information sessions, one of our advisors will explain more detail about the UCC in ISE Program and the ISE program, review the list of partner institutions available, and explain the application process. Info sessions take place at set times during the week. Call the Office of Education Abroad (OEA) to find out when the next one will take place (305-348-1913).
Make an Appointment with the Office of Education Abroad
After attending an info session, schedule an appointment with an OEA staff member to discuss your specific academic plan and the programs in more detail. OEA staff will help you get an better idea of how the programs works and what institutions might be a good fit for you, given the courses you need to complete your FIU degree. In meetings with our office, you will learn more about the application process, the course equivalency process, & financial aid.
Apply to the UCC in ISE Program or ISE Program
Students are applying to the ISE program with a preference for a certain location. Once you select your first choice location, you can begin your application on that host programs brochure page on http://abroad.fiu.edu/. Since we cannot guarantee spaces will be available at certain institutions, we ask students to think about second and third choice locations in addition to their first choice option. A complete application requires several items, including:
Two completed E-Recommendations: At least one needs to be from a college or university-level academic reference (a professor or advisor).

Statement of Purpose

Application Questionnaires

Signature Policy Documents

Scheduling of the ISE Interview.

Non-Refundable $195 Office of Education Abroad Application Fee (paid via my.FIU) - The fee will be posted to applicant's student accounts once the student is nominated and accepted to a program. OEA will let applicants know the due date for paying the fee.
All required items must be completed by the relevant deadlines noted above.
Complete your ISE Interview
Once you have submitted your application materials online, contact OEA to schedule your interview. Interviews will be conducted on a rolling basis during the semester or after the deadline for the given application cycle. However, at the very latest, they must be scheduled by 5pm on the application deadline. Once all interviews are completed, students will be notified of their decision via FIU email. The OEA will then work closely with accepted students as they prepare for study abroad and complete additional required items.
Being Accepted to an ISE
Students who are accepted to either program will be offered a space at a specific partner institution and then have the option to accept or decline their placement. We cannot guarantee that if accepted, an applicant will be offered a space at their first choice school. When making decisions, beyond all the application items and interview, OEA must also take into a account the number of spaces available at a given institution for that specific application cycle. Acceptance to the program is just the beginning of the program.

Accepted participants will then be required to attend several meetings in preparation for study abroad. In the Post-Acceptance Meeting, OEA staff reviews all the required items participants must complete in the time before their semester abroad. This includes working on the host institution application materials and the course equivalency process through which participants have specific host school courses reviewed for equivalency to FIU courses. Then, in a required Pre-Departure Orientation, OEA staff will review more program specific requirements, health and safety information, and offer practical advise on packing for and living abroad for one or more semesters.